Description
Where the very best protective performance equipment is needed, the GATH GEDI helmet steps up to the challenge.  The Gedi is best suited for on the water sports that involve high speeds such as windsurfing, kite surfing, jet skiing or similar sports or activities that require he highest level of head protection. It's a top choice for jet ski, PWC (power water craft), helicopter, land sea rescue and a host of other sporting and professional activities, this helmet is highly customisable and delivers the protection you need.
When you need safety gear, you don't want to compromise on comfort – and you don't want it to interfere with your performance. The Gath Gedi incorporates removable ear protectors for those who like their ears uncovered, a chinstrap, anti rash sleeve and spare comfort strips so you can set up the helmet to meet your exact preferences.
It comes with a handy storage bag to protect it from damage when not in use.
Gath Gedi helmet size chart
The Gath Gedi features a comfort strip system. For example, if you order a Large, your helmet will come with a 4.5mm comfort strip fitted and a spare 6mm comfort strip if you need to downsize slightly. You can also purchase other comfort strips by clicking here.  The small – large has the same size shell, as does the XL-XXL. The only difference is the comfort strips they are fitted with. So to covert a large into a medium, you'd need a 9mm strip. This increases your changes of finding the perfect snug fit when ordering online.
Use our size chart to get the perfect fit for your head shape and size. Please note that this size chart is intended to be a guide only, as head shapes can vary. Measure your head mid forehead, just above the ears.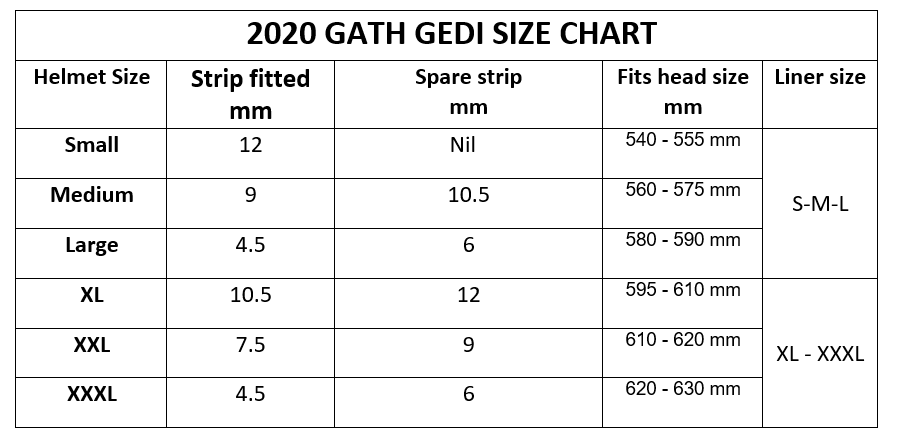 Fully convertible
Wear it your way – for the best fit, the best comfort and the best performance. Choose:
Mini skull cap: Remove ear pockets to allow for maximum hearing, cooling, balance and freedom of movement.
Full head cover: Keep on ear pockets (55 grams set) giving you maximum coverage, ear protection, stability, warmth and adjustable audio vents.
Detachable shatterproof visors: These give you increased facial impact protection, eye object penetration resistance, UV eye protection (rated UPF 50+ Excellent Protection Category) and glare reduction.
Tech spec
The Gath Gedi helmet enjoys the same rigorous quality standards as all of our other helmets. Each Gedi helmet is built for longevity and backed by a solid 3-year warranty for your peace of mind.
Made from the best quality durable materials, our Gedi helmet is made to stand up to the temperature extremes and harsh climate conditions that it was designed for.
Shell: Durable, UV stable, high impact resistant plastic.
Visors: Exceptional quality UV stable, shatterproof plastic.
Peaks: UV stable, flexible, shatterproof, durable plastic.
Liner: Multi impact, non-water absorbent foam.
Headband: 10mm thick multi impact, non-water absorbent foam.
Comfort Strips: Multi impact, non-water absorbent foam.
Fittings: The custom screws and rivets are all made from tough non-corrosive materials that are resistant to salt water.
Retention system: Uses non-stretch standards approved webbing, standards approved quick release buckles (designed for a secure retention) and a nylon coated non-water absorbent foam for extra comfort.
Why choose a Gath Gedi helmet for your extreme sports?
Gath is the #1 brand for extreme sports helmets and it's not difficult to see why. This innovative company have carefully balanced stylish design with exceptional head protection, keeping you safe from the wind, sun, water and impact injuries. Gath Gedi helmets:
Adapt well to a huge range of extreme sports, meeting a wide range of requirements and conditions.
Offer low drag, good water immersion and neutral buoyancy, minimising the risk of neck and spine injury from water impact.
Offer sleek profiles designed for maximum peripheral vision and freedom of movement.
Utilise moulded non-absorbent closed-cell soft foam liners contoured for your comfort and rapid water drainage.
Dry quickly, even after they have been used extensively in the water.
Stand up to the test of time with non-corrosive components and adhesives to combat the harshest marine conditions.